\ 

LPS Laboratories chemicals solutions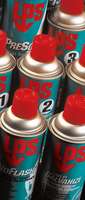 LPS LABORATORIES was started in 1961 when LPS 1® Greaseless Lubricant was first introduced. Since that time, LPS has added a wide range of innovative products including LPS 2® Industrial Strength Lubricant and LPS 3® Heavy-Duty Rust Inhibitor, all of which are designed to meet our customers' MRO chemical needs.
For more than five decades, LPS Laboratories has provided convenience-packaged maintenance chemicals to industrial, aerospace, military and telecommunications facilities world-wide.
In 1999, LPS was acquired by Illinois Tool Works (ITW), of Chicago, Illinois, a 15 billion dollar specialty products and technology company with almost 100 years of diversified manufacturing history.
LPS world headquarters is located near Atlanta, Georgia at 4647 Hugh Howell Road, Tucker, GA 30084 USA. LPS sells into North America through Authorized LPS Distributors and internationally in over 45 countries worldwide through our Authorized International Distributors.